Press Ravings
---




Waddaya know, those pundits of the press seem to just adore Damage Incorporated. Here are some of their choice comments...



Mac Home Journal, August, 1997
5 out of 5 Apples
1997 Home Choice Award: Best Action Game


"Damage Incorporated goes beyond most 3D action games: in this shooter you learn to be part of a team. Damage does an excellent job of making your leadership experience seem real... Damage is totally addictive and tremendously fun. Learning to be a leader of a squad rather than just a guy with a gun makes it truly unique and far better than any game I have ever played! Buy this game and let your Wintel buddies drool!"



Inside Mac Games, Issue 5.4
4 out of 5 Joysticks

"Taking his inspiration from films like Apocalypse Now and Full Metal Jacket, Richard Rouse set out to capture the brutal reality of squad level combat on the computer. The result is Damage Incorporated, a game that pushes the aging Marathon 2 engine to itUs limit and with few exceptions succeeds in simulating the combat experience. With over thirty levels and six missions, Damage Incorporated is an addictive first-person 3D challenge that requires just the right balance of strategy and force for victory... Damage Incorporated uses the Marathon 2 engine to create a unique and challenging new game that infuses new blood into the tired first person shooter genre. If you like Marathon, Close Combat or Warcraft you'll dig this game. What are you waiting for Marine?!!!"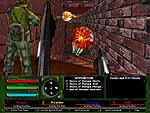 Next Generation, July, 1997
4 out of 5 Stars


"Damage Incorporated excels in the novelty of its gameplay... [It] manages to pull of several tricks that make it feel fresh... Level design is good, commanding the marines is a great addition, and network play is fast. If you enjoy first person shooters, you're going to find a lot to like about this."



MacUser, August, 1997
4.5 out of 5 Mice

"Of the three games [using the Marathon 2 engine], Damage Incorporated is the best. That's partly because it takes a bold new step - this game marks the first time a squadron is used successfully in a first-person shooter... Having a squadron opens up new strategies for first-person shooters..."



MacAddict, September, 1997
"Spiffy"


"If you've been itching for a contemporary first-person shooter, Damage Inc. fits the bill... Instead of running around shooting everything that moves, you actually have to plan with your troops to be effective. This adds a layer of strategy and complexity found in no other first-person shooter game... [Damage Incorporated] offers an interesting team twist and a good plot with a sense of humor."




Back to the Main Page