I've been on a pretty wide variety of games over the last fifteen years. They're all extremely different, yet I'm fond of each one in its own way.
2012 - NOW: At Microsoft I'm in the Studios Publishing group, and I've gotten to work on a range or titles, from titles for XBLA (most notably CastleStorm with the fine people at Zen Studios), to titles for the upcoming Xbox One, like some features on Quantum Break (with Remedy Entertainment) and the multiplayer on Sunset Overdrive (with Insomniac Games). And some titles I can't talk about. Maybe ever.
2010 - 2012: At Ubisoft Montreal I was Narrative Director on Rainbow 6 Patriots, a reboot of the Rainbow brand that incorporated story in a way the franchise never has before, with difficult choices for the team to face. The game tells the story of home-grown US terrorists fighting to take back their country and how far Rainbow must go to stop them. The game was announced via a cover story in Game Informer magazine.

2008-2010: At Kaos Studios I worked on the story-driven large-scale FPS Homefront as the lead single player designer. Set in an occupied, post-energy-crisis America, the game tells the story of a resistance group who will stop at nothing to turn back the invaders. The game was unveiled at E3 2009, and was published by THQ in March of 2011.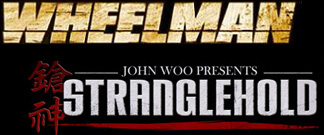 2006-2008: For two and a half years I was the Director of Game Design at Midway. It was quite a change of pace for me: I was not on any one project but instead oversaw the design of several of Midway's internally developed next-generation titles, with a particular emphasis on the action/adventure games. My responsibilities ranged from making sure the right design leadership was in place and providing guidance as the games progressed (on games like the 2007 shooter Stranglehold), to more significant involvement on a few key titles. Surreal's open city game This is Vegas was a project I got started while I was still at Surreal and stayed quite involved with while I was at Midway. Wheelman was developed at Midway's Newcastle studio and I helped lay the foundation of the game design and have driven the story and script in collaboration with Tigon. Wheelman was released by UbiSoft in 2009.
2005: With an extremely tight schedule for a game of its nature (originally twelve months, it was then pushed out to sixteen), The Suffering: Ties That Bind came out in September of 2005. It was a direct sequel to the original The Suffering, and endeavored to build upon the action/horror gameplay and rich back-story of the original title. The game picks up right where the first left off, with Torque arriving by boat in Baltimore harbor, only to find that the creatures he thought he had left behind are now running wild on the streets. Again the morality system returns to allow the player to uncover more about Torque's past, but we also went to great lengths to allow the player greater control over the narrative as they're playing. While also being Studio Creative Director at Surreal, I served as the Creative Director and Writer. Despite a crushingly hard level of difficulty, press and public response was overall quite positive. The game was developed by Surreal Software, published by Midway, and we managed a near-simultaneous launch for the game on three platforms (PlayStation 2, Xbox, and PC) and in five languages.


2004: The Suffering brought everything full circle in a lot of ways. Though the gameplay and tone are completely different, the story shares a lot of spirit with that old RPG. After two years and two months of development, The Suffering finally shipped on March 8 of '04. I served as Project Lead, Lead Designer and Writer. Set in a bleak prison on a mysterious island off the coast of Maryland, the player controls Torque, a hardened inmate who has just been transferred to death row for the murder of his ex-wife and two sons. But did he really do it? And will the bizarre creatures who spring from the evil past of the island allow him to live long enough to find out? An action (as opposed to survival) horror game, the title strives to free the horror genre from the shackles of bad controls and fixed cameras that it's been stuck with since Resident Evil. One of its biggest hooks is that how you play determines Torque's guilt or innocence, with a fairly novel "morality" system determining the outcome. Press and gamer response was extremely positive. The game was developed by Surreal Software, published by Midway, and is currently out in five languages for the PlayStation 2, Xbox, and PC. I wrote a post-mortem about the development of the game for Game Developer magazine.



2002: After three years in development, Drakan: The Ancients' Gates, the all-new sequel to the original Drakan: The Order of the Flame, was finally released in January of '02 exclusively for the Sony PlayStation 2. The game was developed by Surreal Software and published by Sony. I served as a designer and a programmer on this one. Most of my design work centered around weapon, spell, and creature balancing, along with some game mechanics design. I also worked on various gameplay-related programming tasks ranging from player controls to the store system to AI. The game's a third-person action/adventure/RPG hybrid that takes place in a massive fantasy world and allows you to fly a fire-breathing dragon (among other fun stuff). The game received positive reactions from the press and public alike, with little else similar to it available on the consoles at the time. I wrote a post-mortem about the game for Game Developer magazine which is currently unavailable online, but I hope to fix that soon.




Finally Died in 2001: At Surreal Software, I worked on Gunslinger for a good two years, on and off, as Lead Designer, Writer, and Occasional Programmer. Gunslinger was an extremely ambitious action/adventure/RPG set in the American West, and had thoroughly non-linear gameplay, slow pacing, and a unique setting (at least for a video game). The game was shown at one E3, and fan and press response was extremely positive to the concept. But in the end the game was cancelled. So what happened? Amongst other problems too tedious to go into here, in the end the people with the money never had faith (at least, not for long enough) that modern audiences would want to play a western. Of course, it can't be argued that westerns are not exactly as popular as they were forty or even twenty years ago. So in the end marketing departments at two different publishers nixed it. It was always described as a game with great potential, and I still see it pop up in various articles about great game ideas that somehow didn't ship. Sadly it never quite got the opportunity to live up to its promise. Rest in peace.





1998(PC)/1999(PlayStation/Dreamcast): Then came Centipede 3D, on which I was Lead Designer and AI Programmer. The game is a "remake" of the classic 1981 Atari arcade game designed by Ed Logg. The PC version of Centipede 3D was developed by Leaping Lizard Software during most of '98, and published by Hasbro Interactive in that same year. The PlayStation version was developed by Leaping Lizard and Real Sports Games, and published by Hasbro in '99. The Dreamcast version was developed by Leaping Lizard alone, and was also published by Hasbro in '99. Finally the Macintosh version, quite similar to the Dreamcast version, was converted by Westlake Interactive and published by MacSoft. The game endeavored to capture that classic arcade gameplay in a 3D, visually lush environment. Consensus seems to be that it mostly succeeded. The Dreamcast and Macintosh versions ended up being the most impressive since they includes the extra six levels of the desert world Aridia and numerous graphical improvements, as well as an actual emulation of the classic game. I wrote a post-mortem about the development of the PC and PSX versions for Game Developer magazine.




1997: My second published game was Damage Incorporated, also the second branded Paranoid Productions game.  Working with the fine people at MacSoft, it was developed from March of '96 through April of '97.  It was published for Macintosh by MacSoft in April, and then ported over to Windows '95 and published by WizardWorks in '98.  A first person shooter with a squad of teammates the player can command, the game uses Bungie's Marathon 2 technology.  It featured a modern military setting, and included plenty of entertaining banter from the player's teammates.  People still send along email saying how much they enjoyed it.




1996: And in the beginning there was Odyssey - The Legend of Nemesis, the first of the two games officially developed by Paranoid Productions.  Originally called Archipelago, it was developed in conjunction with Bungie Software during 1994 and 1995, and was finally published in January of '96 by MacSoft.  It was Macintosh only.  A fantasy RPG with adventure elements, it has lots of non-linearity and truck-loads of dialog.  The fans of the game were quite vocal in their support still to this day. It was recently released as freeware.