Richard Rouse III is a creative director, game designer and writer with over twenty years of experience working on titles that blend gameplay and narrative in unique ways. He consults on a variety of titles from AAA to serious to indie, for PC/Mac, mobile, and every major console.


Richard started out making games independently for the Macintosh and PC under the banner Paranoid Productions, including award winning titles such as the RPG Odyssey: The Legend of Nemesis and the tactical shooter Damage Incorporated. Richard has recently returned to Paranoid Productions and independent game development with The Church in the Darkness.



Over the last decade, Richard worked on a number of AAA projects at larger development studios. At Surreal Software, Richard was Studio Creative Director and served as creative lead and writer on the popular horror games The Suffering and The Suffering: Ties that Bind. When Midway acquired Surreal, Richard became Director of Game Design for the company, working to help a number of new studios Midway working on action adventure titles. At Microsoft Studios, Richard was a publishing design lead on titles like State of Decay, CastleStorm, and Sunset Overdrive, as well as contributing to many other titles including Quantum Break. At Ubisoft Montreal, Richard was one of the few Narrative Directors in the company and worked on the franchise reboot Rainbow 6: Patriots leading to a well-received cover story in Game Informer magazine.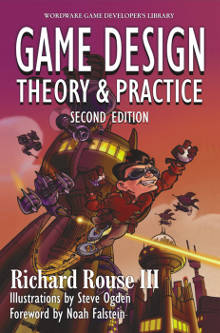 In addition to his work in development, Richard also wrote the book Game Design: Theory & Practice, one of the most popular books on game development and which is frequently used in college courses. Richard has also written for many different publications, including articles for Game Developer magazine, Game Informer, Develop, and Siggraph Computer Graphics.

Richard has also been a frequent speaker at the Game Developer's Conference, including popular series including "Rules of the Game" and "Cinematic Game Design", numerous talks on game storytelling, and "Five Ways a Video Game Can Make You Cry" which was one of the highest rated talks of its year. Richard has also spoken at many difference conferences around the world, including the Montreal International Game Summit, PAX Prime, Siggraph, Game Developers' Conference China, fmx (Stuttgart, Germany), and Cartoons on the Bay (Venice, Italy). He has also lectured on game design at numerous schools, including MIT, McGill, Ringling College of Art and Design, University of California Santa Cruz, Rensselaer Polytechnic Institute, and FAAP (Sao Paolo, Brazil).